Chicago – State Representative Brad Stephens (R-Chicago) is partnering with Cook County Commissioner Peter Silvestri (R – Elmwood Park) to host a holiday food and gently used coat drive on Saturday, December 12, at their district office.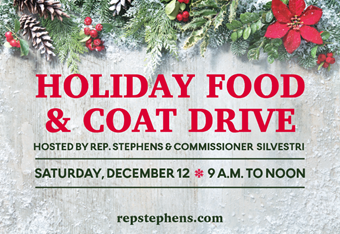 Donations of gently used coats, canned, and non-perishable food items will be collected in the rear parking lot of their constituent services office 5515 N. East River Rd., Chicago, IL 60656.
"The pandemic and the economic shutdowns have created great need this holiday season," said Rep. Stephens. "Our food pantries and community organizations provide a critical service for residents, but due to the pandemic their resources are being stretched this holiday season."
Those wishing to donate simply need to follow the signs that guide them through the parking lot where event volunteers will collect their donations, which will then be delivered to New Hope Community Food Pantry
"During this challenging time, we must do what we can to assist our neighbors in need. However you can assist, with non perishable food, or coats, please help! Together, we will get through this unique time in our community," said Commissioner Silvestri.
This event will follow social distancing guidelines, and those donating do not have to leave their cars, as volunteers will be available to collect the items directly from the car.
If you have questions please visit repstephens.com, or call the legislative office at (773) 444-0611.
##