Outdoor Resources in Illinois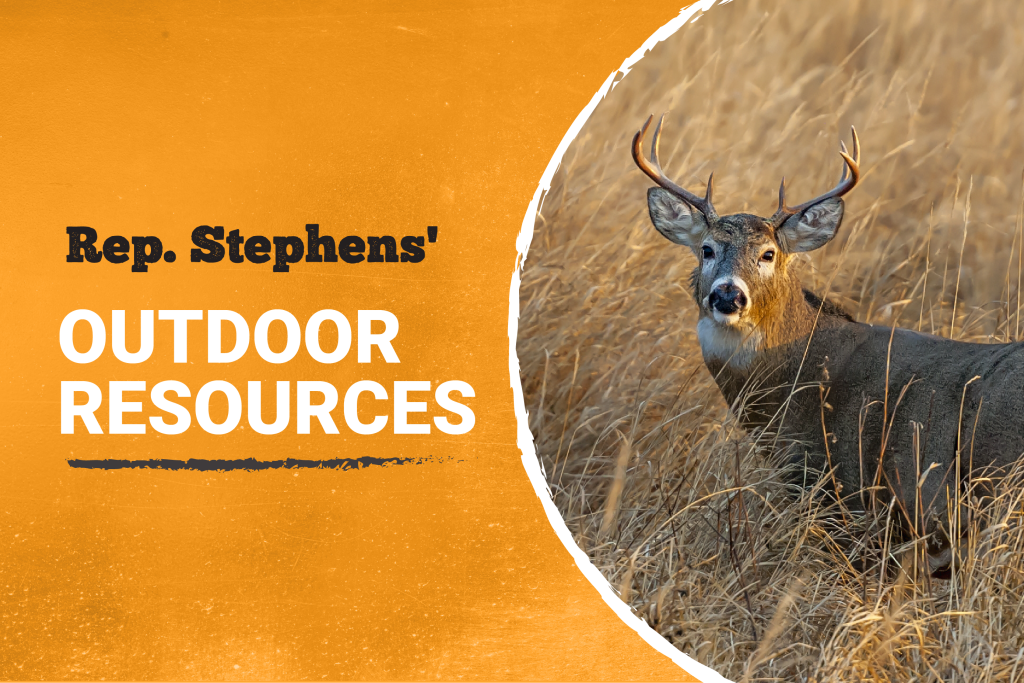 While we live in and outside America's third largest city in the 20th District, Illinois is filled with spectacular nature and opportunities to enjoy the great outdoors. Find information from the Illinois Department of Natural Resources and Enjoy Illinois below!
IDNR Resources for Outdoor Activities
Hunting & Trapping
Effective January 1, 2023 – a new Illinois law will allow hunters to use centerfire, single-shot rifles in certain calibers for deer hunting. Administrative rules are still being developed to accommodate the new law. For additional information, please review the following list of FAQs.
Parks & Recreation
Fishing
Boating
NOTICE: Illinois Boat Registration and Safety Act Amendments Take Effect JUNE 1
Pay Special Attention To:
If you have questions regarding your watercraft tax, contact the Dept. of Revenue 1-800-732-8866.
Please allow five weeks processing time before contacting our office regarding the status of your application
Registrations expire every 3 years on September 30th.
Copies of titles/registrations are not acceptable; the original must be sent.
Submittal of documentation does not guarantee an approved application. We review each application on a case by case basis.
​Please use Online Renewal if your boat is currently registered in your name
Please see our FAQ Information Page for additional questions.
Email us if you have a question?
Additional Links
Enjoy Illinois Outdoor Adventures
Route 66, Tunnel Hill State Trail, U.S. Bicycle Route 76, Chicago Lakefront Trail, the Illinois American Discovery Trail, the Great River Trail, the Grand Illinois Trail, the Illinois and Michigan Canal State Trail
Unlock the Secrets of Starved Rock
Less than 100 miles southwest of Chicago, melting glaciers left their mark, carving a maze of canyons into the St. Peter sandstone.
A Hole Lot of Fun: The Best Swimming Holes in Illinois
There's nothing more refreshing on a hot day than plunging into the clear waters of a cool swimming hole.
Outdoor Explorers – Enjoy Illinois by Water, Bike, Rock or Hike
The great Illinois outdoors offer plenty of places to get out and get active.
Illinois' state parks and spots of natural beauty make for a great way to travel eco-friendly and unwind in a simpler, sustainable setting.
Outdoor Adventures in Southern Illinois
Attention, work-hard, play-hard types: Illinois' southern tip has your back.
Are There Mountains in Illinois?
Believe it or not, The Prairie State has plenty of elevated adventures.
Illinois wineries, state parks and family water parks teem with rentable cabins. Whether you want something romantic, remote and rustic or something near an attraction with modern day creature comforts like WiFi, Illinois' cabins have it.
Chicago's Bird Watching Experience
Chicago's lakefront is in the heart of the Mississippi Flyway, providing an important landing place to rest and refuel.
Cahokia Mounds State Historic Site
Imagine an ancient Native American settlement where people built pyramids, constructed solar observatories and yes, even practiced human sacrifice. It's right here in Southern Illinois, and the ancient civilization's massive remains stand as one of the best-kept archaeological secrets in the country.