Hello and happy spring! We are in the final stretch of our spring 2023 legislative session, which will adjourn on Friday, May 19th. Please be sure to reach out to my office at any time with your thoughts on legislation in Springfield by calling (773) 444-0611 or emailing stephens@ilhousegop.org. For now we will be adjourning until our fall 2023 veto session around November, so be sure to make your voice heard!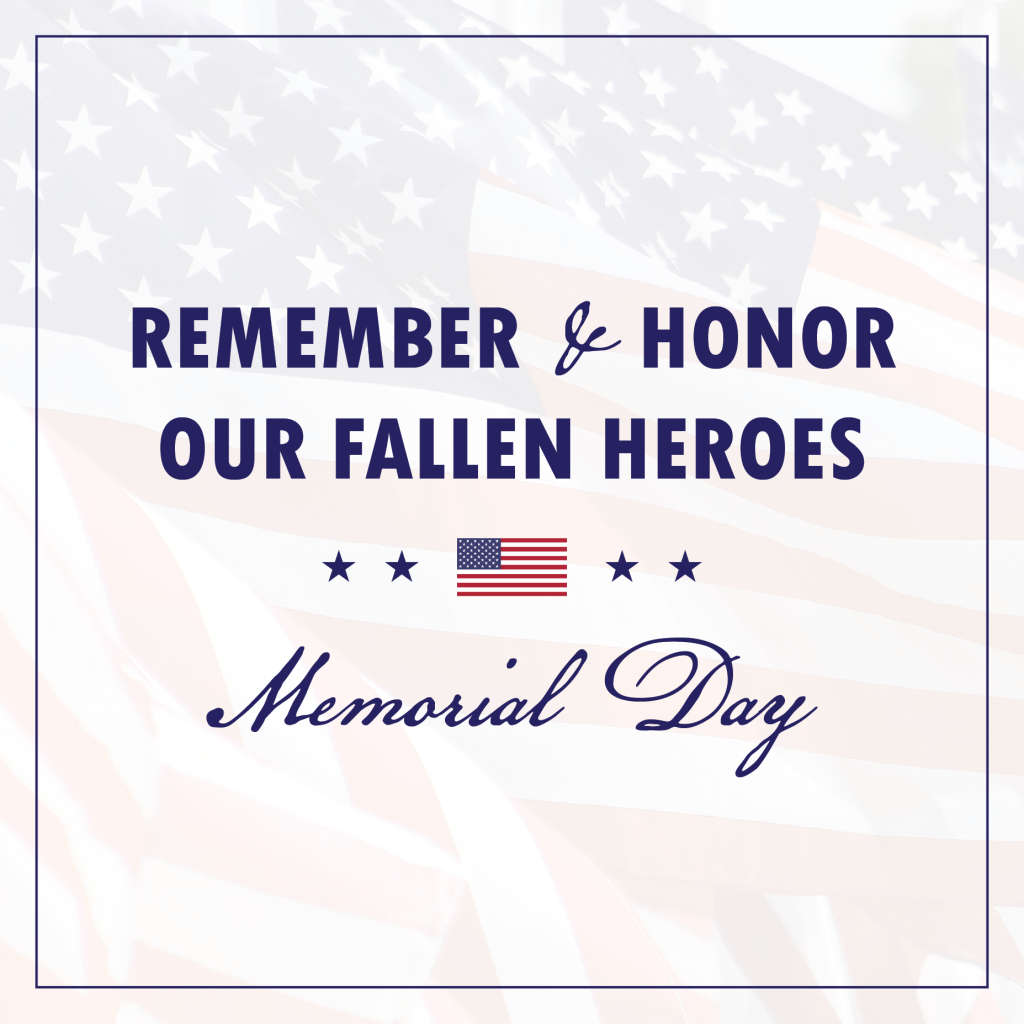 Remembering the Fallen
As we approach the unofficial beginning of summer, let's remember the significance of Memorial Day weekend and the Gold Star families in our communities. Thank you, Gold Star families for all you have given for our country. Freedom truly is not free.
---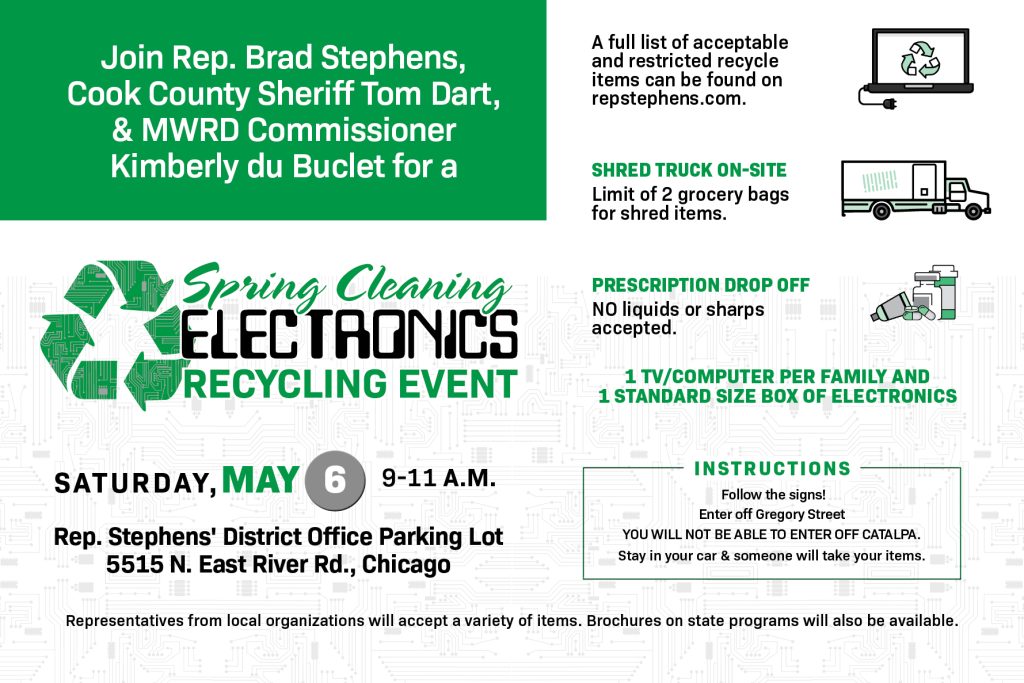 Spring Cleaning Electronics Recycling, Shred, & Prescription Drug Drop Off Event This Month
I'm hosting a Spring Cleaning Electronics Recycling Event THIS Saturday, May 6th from 9 – 11 AM at my District Office East Parking Lot. Find more information on this event here!
---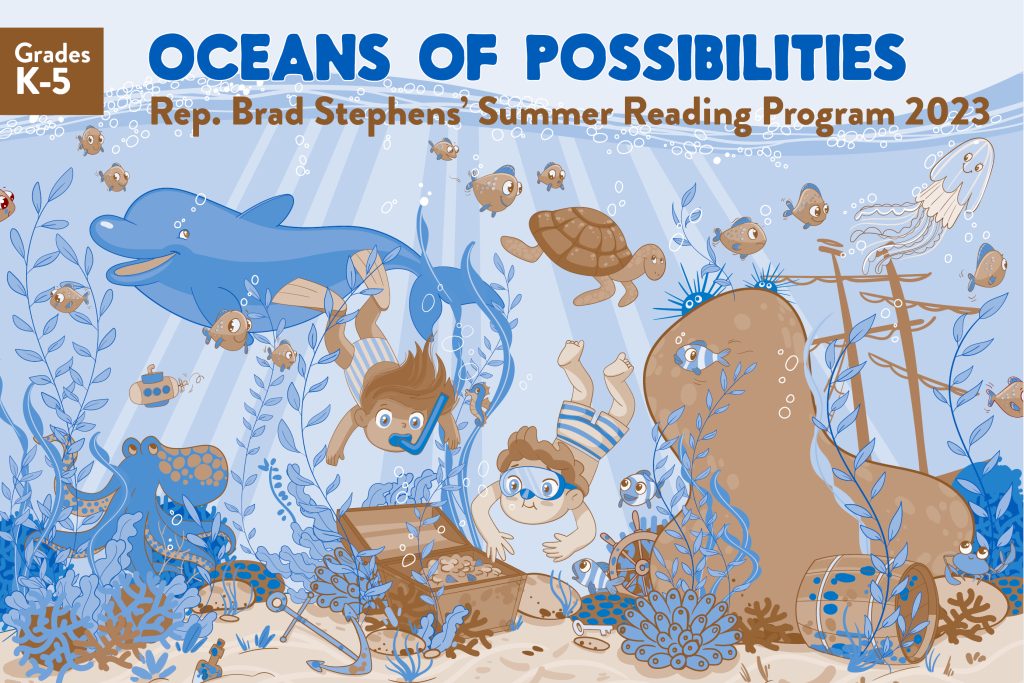 Dive into Reading: Oceans of Possibilities Summer Reading Program
This summer, I'm launching my Oceans of Possibilities Summer Reading Program! K-5th Graders are invited to read 10 books this summer to receive a voucher for 2 tickets to the Chicago Wolves. The summer's Grand Champion who reads the most books beyond 10 will receive 2 tickets to Disney on Ice. Submissions are due August 15th!
Find more information online here.
---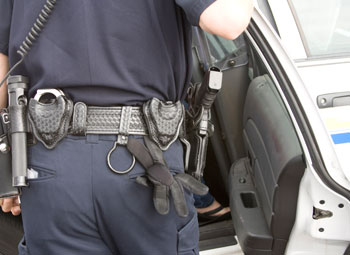 Truth in Public Safety Working Group Unveils New Legislation
On Wednesday, the House Republican Truth in Public Safety (TIPS) Working Group introduced a series of measures designed to balance the rights of the accused while ensuring the safety of the public. The group explained that the measures in the form of legislation focus on three main areas identified by the TIPS Working Group after months-long discussions with stakeholders, including crime victim advocates and law enforcement professionals. Those areas include protecting crime victims, retaining and recruiting law enforcement officers, and ensuring pre-trial fairness applies to everyone, including victims and the public.
---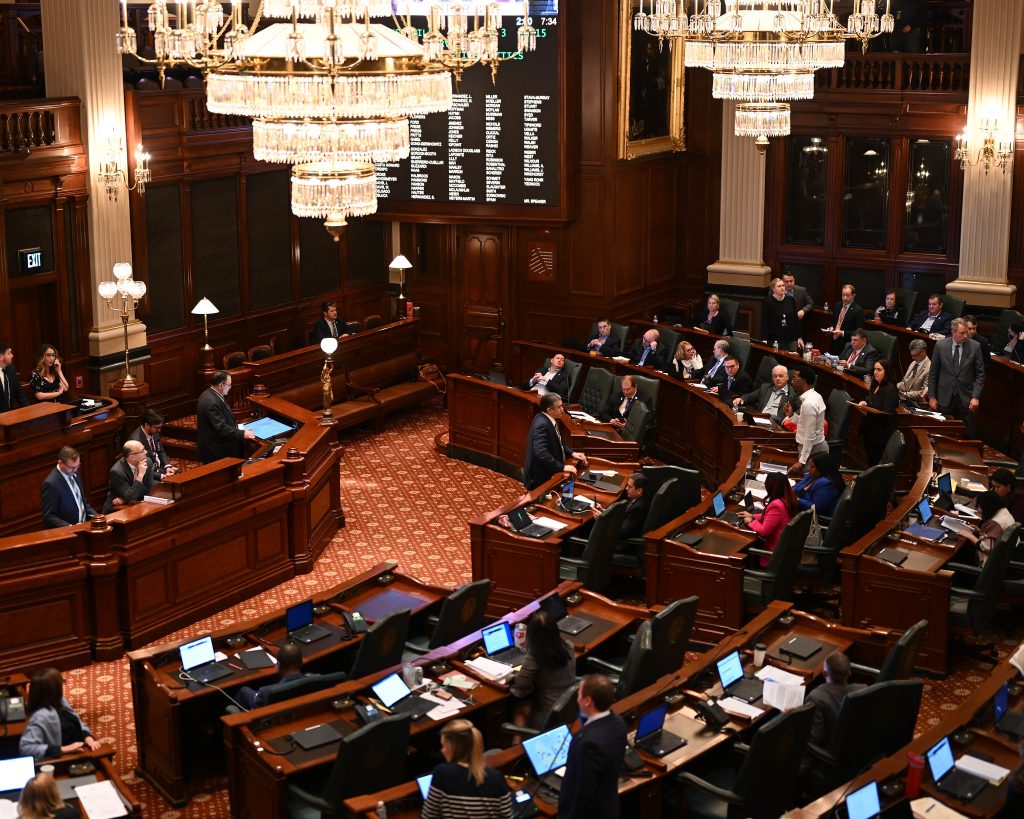 House Passes McCombie Bill to Combat Fentanyl Epidemic
In March, the Illinois House of Representatives unanimously passed legislation sponsored by House Republican Leader Tony McCombie and co-sponsored by me to combat Illinois' fentanyl epidemic and save lives.
McCombie's bill, HB 3203, allows pharmacists and retail stores to sell potentially life-saving fentanyl test strips over the counter. I am proudly co-sponsoring HB 3203. Currently, test strips are classified as drug paraphernalia, which has made it impossible to make progress on identifying fentanyl in other drugs. The test strips will be able to identify if fentanyl is present in any drug, which is essential considering only a small dose (only 2 milligrams) of fentanyl can have fatal consequences. The legislation McCombie is backing will make a significant stride to protect kids from unintentionally ingesting a deadly drug.
---
Leader McCombie Hoping for Balanced State Budget
House Republican Leader Tony McCombie says her top priority is to pass a balanced state budget, but has concerns about how that will be accomplished.
"The definition of 'balanced' will be the question," said Leader McCombie. "The speaker says it will be balanced. But does balanced mean we will borrow funds from other agencies and other funds? Yes. Does it mean that we will move funds from one fund to another? Yes. I don't hope for that, but it's been that way ever since I've been there."
McCombie is in her seventh year as state representative, and her first as House Republican Leader. McCombie said Reps. Norine Hammond and Amy Elik are working hard to make sure Republicans have a presence at the table during budget discussions. Hammond is chief budgeteer for House Republicans and Elik is the party's deputy budgeteer.
---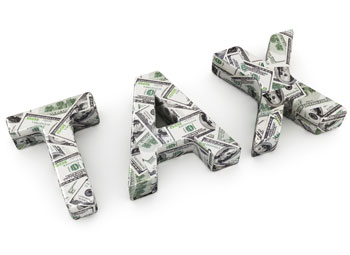 WalletHub Survey Finds Illinois Scores 50th of 50 States in Terms of State and Local Tax Rates
The survey performed by WalletHub calculated the composite of the total State and local tax rates charged within each state. When state and local taxes are added together, the effective state-by-state rate ranged from 6.05% to 15.05%, depending on state lines. Illinois scored dead last, with the tax burdens faced by Prairie State families taking up 15.05% of the income of a typical American household. This was 50th among the 50 states.
---
Walmart Hits Chicago Area with Major Closure Announcements
The Arkansas-based retail giant that operates Walmart and Sam's Club stores across the U.S. released several lists of stores that are closed or will soon close. The lists include four stores in Chicago (Chatham, Kenwood, Lakeview, Little Village) and three stores in the suburbs (Lincolnwood, Plainfield, Homewood). After the Chicago closure, Walmart will have only four remaining stores operating within Chicago's limits and the company states these remaining stores are also losing money.
The closure of a brick-and-mortar store leads to personnel layoffs. The Walmart business model includes the retention of approximately 200 associates per superstore. Additionally, these closures lead to declines in retail and property tax payments to local governments and schools. Its closure will impose a greater tax burden on other property taxpayers within a jurisdiction.
---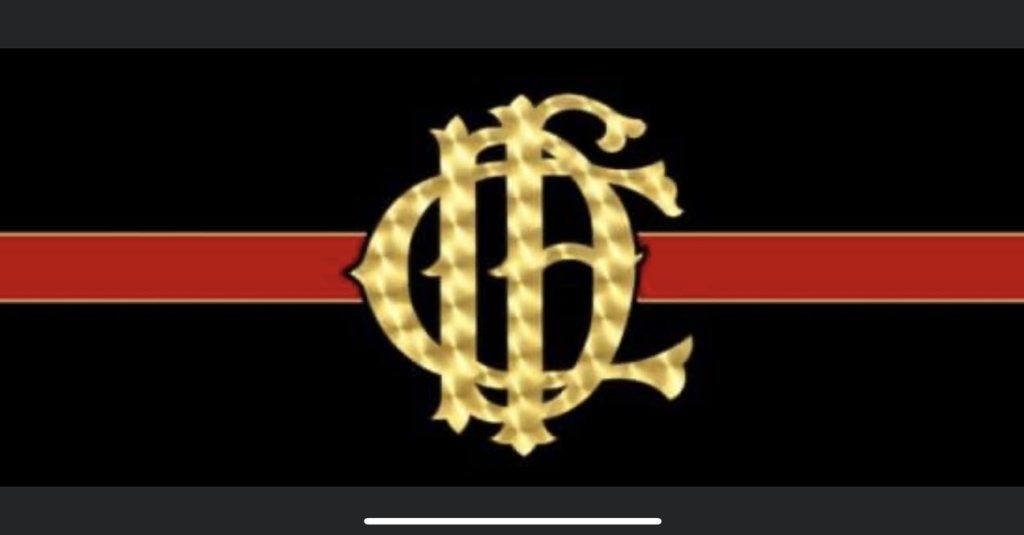 Remember the Fallen: Chicago Fire Department
In April, over the span of two days the Chicago Fire Department lost two firefighters in the line of duty: Jermaine Pelt on April 5th and Jan Tchoryk on April 6th. Please keep the CFD, all Illinois fire departments, and their families in your prayers. Their sacrifice is truly insurmountable and we are fortunate to have these heroes and the people who love them protecting our communities.
---
Tornadoes Hit Illinois; Five Illinois Counties Declared Disaster Areas
A severe storm system hit the central U.S. on March 31st. In Illinois, the storm system generated high winds, tornadoes, and severe property damage in many regions of the state. Boone, Crawford, DuPage, Marion, and Sangamon Counties were enumerated in the disaster proclamation by Governor Pritzker. The proclamation authorized a coordinated emergency response effort, led by the Illinois Emergency Management Agency.
These storms have very real and tragic consequences. At least four deaths, numerous injuries, and massive property damage were confirmed. Three of the fatalities came from an EF-3 tornado that hit Crawford County and a fourth fatality was associated with a tragic structural failure in Boone County. Please pray for those recovering from injuries and the families of those who lost loved ones in these disasters.
---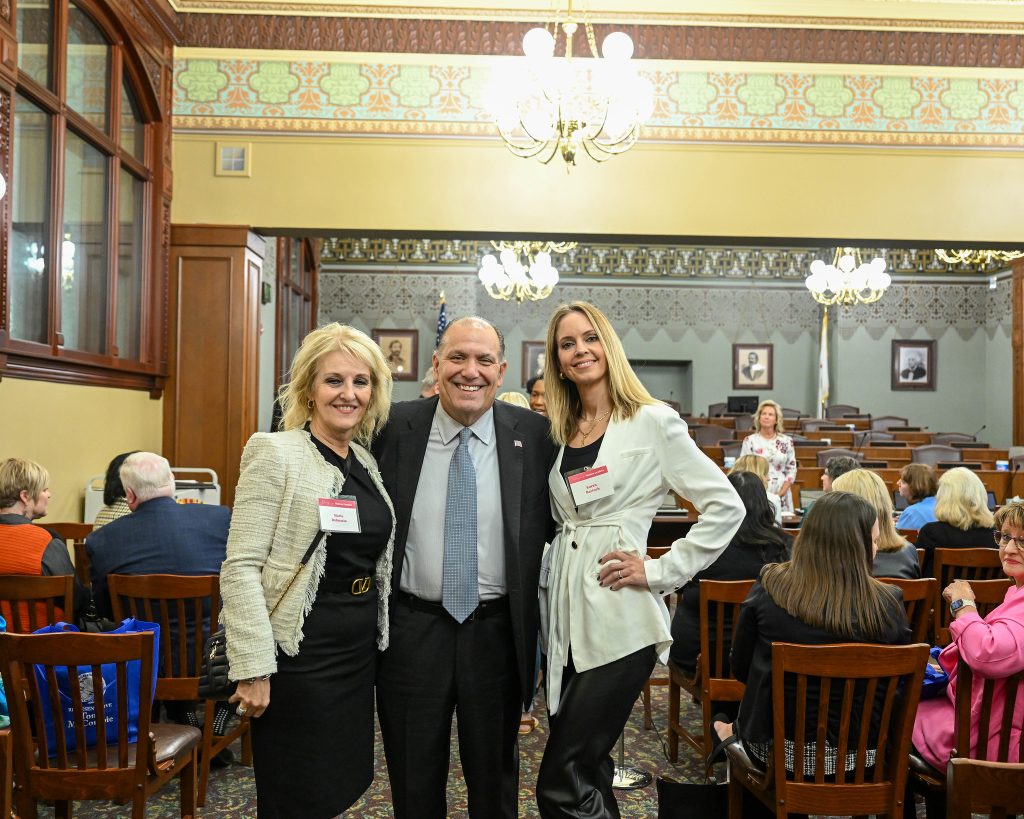 Emerging Women Leaders from District 20
In April, House Republicans hosted the 2023 Emerging Women Leaders Recognition Event. Nearly 50 women from across the state were honored at this event. I was proud to recognize Karen Bartuch and Maria Dalmazio from the 20th District and all they do for our communities!
---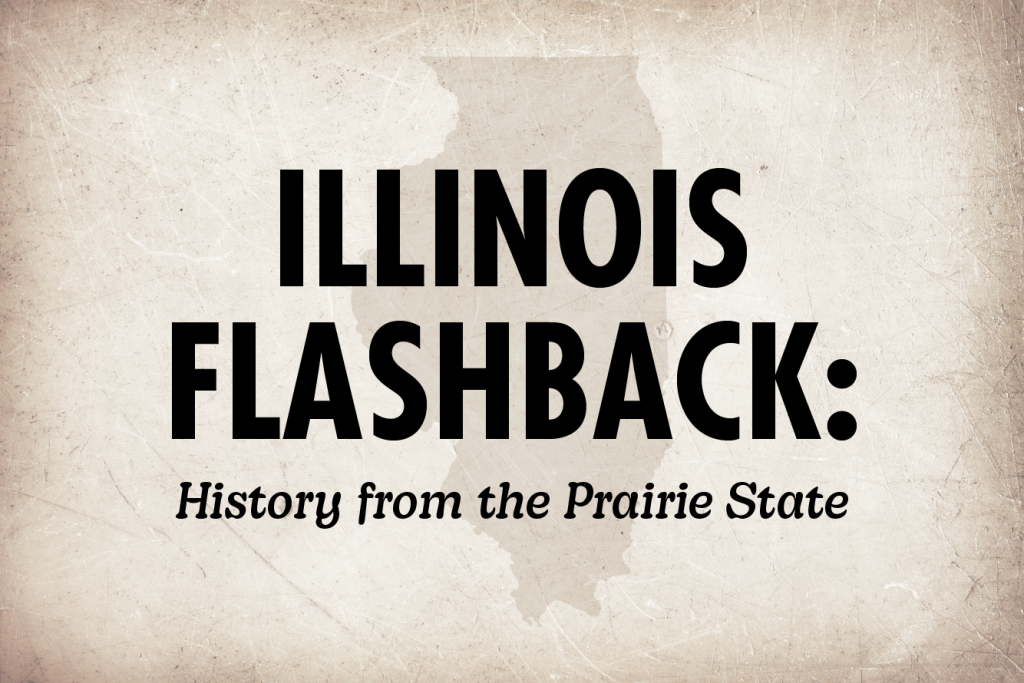 Illinois Flashback: History from the Prairie State