Read a compilation of responses from Dr. Alison Thompson, a civilian relief worker who worked in rescue, recovery, and relief efforts at Ground Zero:
"I was in my apartment on 84th Street and York Avenue when the news of the World Trade Center attack broke. I rollerbladed eight miles downtown to the site with a first aid kit to help. I was giving CPR near the North Tower when it collapsed and tried to race back uptown, away from the giant plume of smoke that was trying to engulf us. After hiding under a mail delivery truck, I crawled out into the smoky darkness. The world was now black and white and I slowly walked back down towards the World Trade Center to see how I could help. We were all then shuffled to City Hall where we were divided into military and medical groups. We were then driven by a police officer via a New York City bus to a staging area on the Westside Highway. It was around 5:30 p.m. after the collapse of Building 7, and there was much waiting around, when we finally went back to Ground Zero. We found ourselves staring into the gates of hell wondering what to do. It was as if a giant vile beast had risen up from under the ground and scorched everything in its path.
"I lived on the streets for the first five days after the attacks, with EMS worker Michael Voudouris and a small group of nurse volunteers. We worked as first responders washing out hundreds of firefighters' eyes at the FDNY 10 House and helped with the bucket brigade searching for survivors. We then worked a block away giving medical triage to firefighters and police officers.
"That first week we searched tirelessly for our stolen friends. Then, after five days of no sleep, I rollerbladed home and spent four days recovering before signing up with American Red Cross Respite 1 at St John's University on Warren Street in lower Manhattan. Here, I aided rescue and recovery workers at Ground Zero for another nine months until its official closing on May 30th.
"Mark Twain said, 'The two most important days of your life are the day you were born and the day you find out why.' I found out my 'why' on September 11, 2001.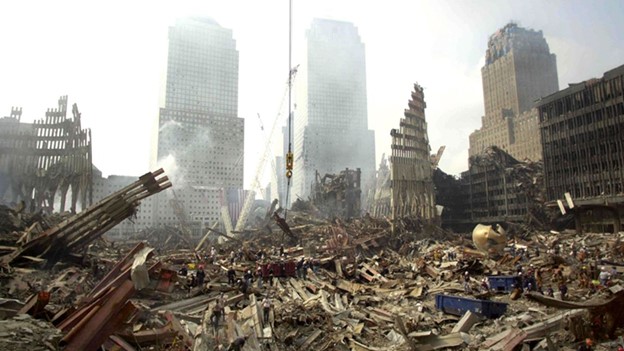 "Since my time at Ground Zero, my lung capacity has greatly diminished. I have had numerous skin cancers and now have an autoimmune disease. I do not regret a single day I spent there, though, and would gladly give my life so that others may live."