Read a compilation of responses from PAPD Officer John Ryan and his experiences during September 11th, 2001:
"I had been with the PAPD [Port Authority Police Department] for 22 years…My connection to the World Trade Center though, goes back to before I became a police officer. It dates to 1977 when I was in college and worked as a guide at the Observation Deck of the South Tower.
"On September 11, 2001, I was originally scheduled to work…but it was my daughter's first day of pre-school…so I took the day off. Sometime after I had gotten up that morning, I received a call from my sister-in-law who said a plane had crashed into the World Trade Center. I put on the news, and shortly thereafter, the second plane crashed. I realized we were under attack. At that point, I started to make my way into the city…I made my way to Kennedy Airport and then down to the site. Both buildings had already collapsed.
"As a police department, we were in a lot of chaos after the collapse of the buildings, having lost our Superintendent of Police, Fred Morrone, and many of our officers. Additionally, the World Trade Center was the headquarters of the Port Authority of New York and New Jersey, which the police department was a part of. Many Port Authority employees were killed that morning, including our Executive Director, Neil Levin. We were in upheaval, not only having suffered the attack but having lost a great deal of our go-to people. As an agency responsible for the airports, tunnels, bridges, and all key transportation facilities that would keep New York running, we had a lot to do. One of the most important tasks was putting together a team of people that would stay at the World Trade Center and handle the rescue, and then recovery operation. I was one of the people that was selected for that.
"I spent the next nine months at Ground Zero as the Day Tour Commander of the Rescue and Recovery Operation. Initially, I oversaw the rescue of potential survivors. The rescue, however, quickly turned into a recovery operation…
"One of the most difficult things we had to do was recovering the individuals we worked with and seeing them in that condition, some only recognizable by their name tags or the serial numbers on their weapons. It was odd. We would move into some areas, and nothing would survive. The fires had been burning for so long and the heat was so intense that anything that had been there would have turned into ash. Then, we would move five feet away and find things perfectly intact…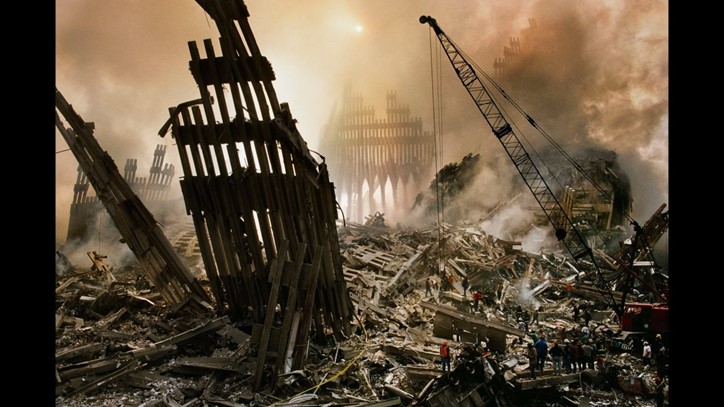 "It felt like one long day. We were there for so many hours. When human remains were found, they would be placed in a bag, draped in an American flag, and carried out by a group of workers. Performing this ceremony hundreds of times created a bond between us that you would never experience under any other circumstances."
Image from CNN