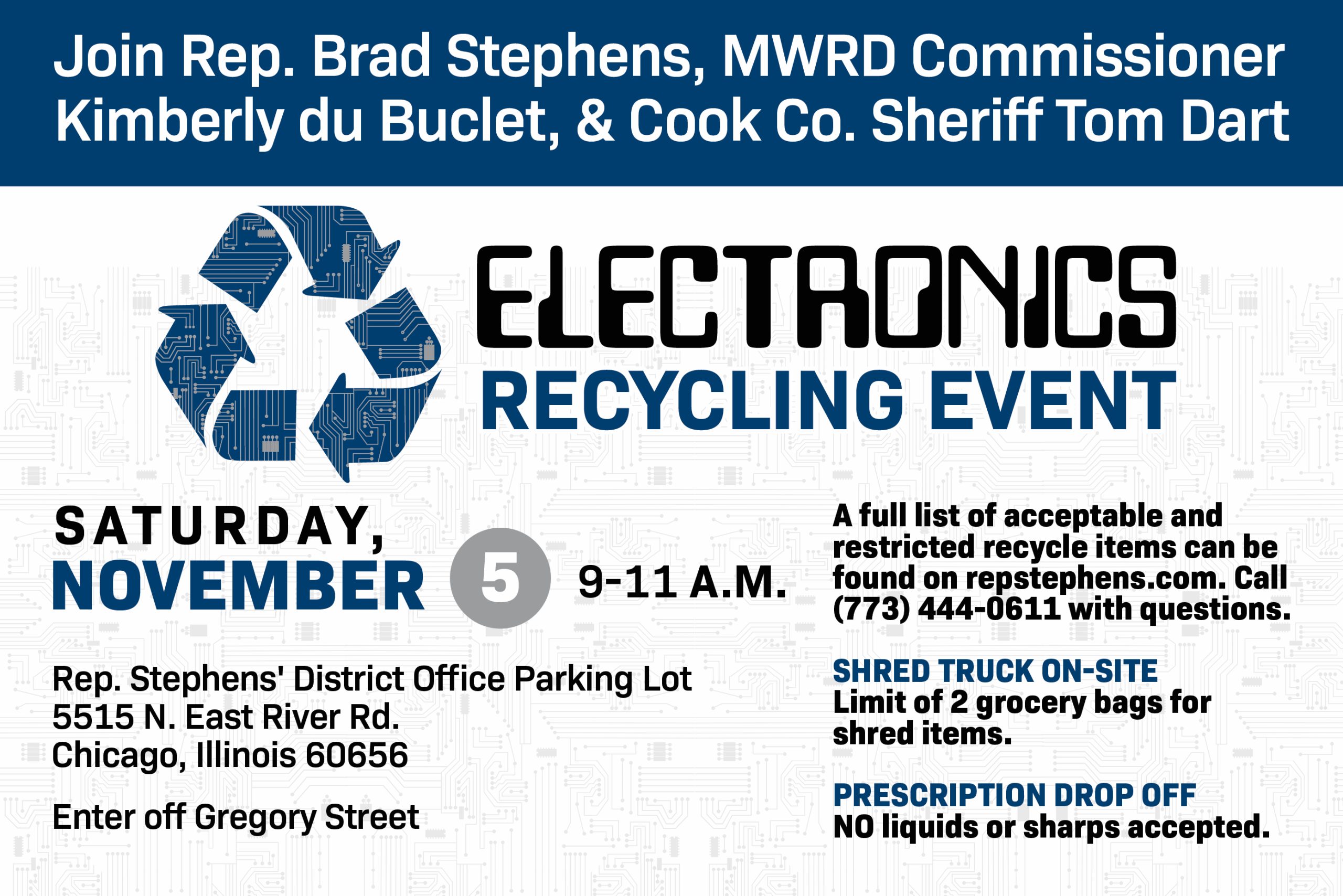 State Representative Brad Stephens, Cook County Sheriff Tom Dart, and Metropolitan Water Reclamation District Commissioner Kimberly du Buclet are hosting another free electronics recycling, shred truck, and prescription drug drop off in Chicago this November!
WHAT: November Electronics Recycling, Shred Truck, & Prescription Drug Drop Off Event
WHERE: Rep. Stephens' District Office Parking Lot (5515 N. East River Rd., Chicago, IL, 60656)
WHEN: Saturday, November 5th, 9:00 a.m. to 11:00 a.m.
ADDITIONAL INFORMATION: Please enter the event from Gregory Street. This will be a drive-thru outdoor event. Drivers should follow the marked lanes when entering and exiting the parking lot. Free document shredding will be available with a limit of 2 grocery bags per car. This is residential only and will be available until the truck is full.
Electronic Items Accepted:
Cables – all types
Cell phones/telephone devices
Computers/laptops
Hardware/motherboards
Monitors/calculators
Printers/fax machines
Game systems/stereos
Televisions – LIMIT ONE PER HOUSEHOLD
Toasters/blenders
Toner cartridges
UPS batteries/car batteries
HOLIDAY LIGHTS WILL NOT BE ACCEPTED
Medications Accepted:
Prescription medications
Prescription ointments and patches
Pet medications
Vitamins
LIQUID MEDICATION, ILLEGAL DRUGS, AND SHARPS WILL NOT BE ACCEPTED