Hello and happy spring! I hope you are all enjoying the warmer weather. This is a legislative update from my office on what we have been working on in the General Assembly and in the 20th District the past month.
In April, at St. Joseph the Betrothed Ukrainian Orthodox Church, there was a "Stand with Ukraine" rally. Although I was in Springfield and wished I could have been there in person with constituents, I sent my support from downstate to all participating in the rally. I'm proud to represent 20th District Ukrainian Americans and co-sponsored House Resolution 711 to condemn Russia for their attack, as well as urge Illinois to divest from Russia-related investments.
On April 29th, Knox County Deputy Nicholas Weist lost his life in the line of duty. He was setting out spike strips in order to stop a vehicle that was fleeing Galesburg police, when he was struck and killed by a car at U.S. Route 150 and 150th Avenue in Henry County. This incident began "when Galesburg police officers responded to a call about a suspect with a gun at the Circle K Gas Station on Main Street at 8 a.m. Friday. Two officers found the suspect's vehicle and attempted a traffic stop, but the vehicle sped north on Henderson Street…trying to elude the police," according to the State Journal Register. According to Deputy Weist's obituary, since he was little he wanted to be a police officer. Our prayers are with the family of Deputy Weist for their incredible loss. Thank you to our police officers for all you do to keep our communities safe.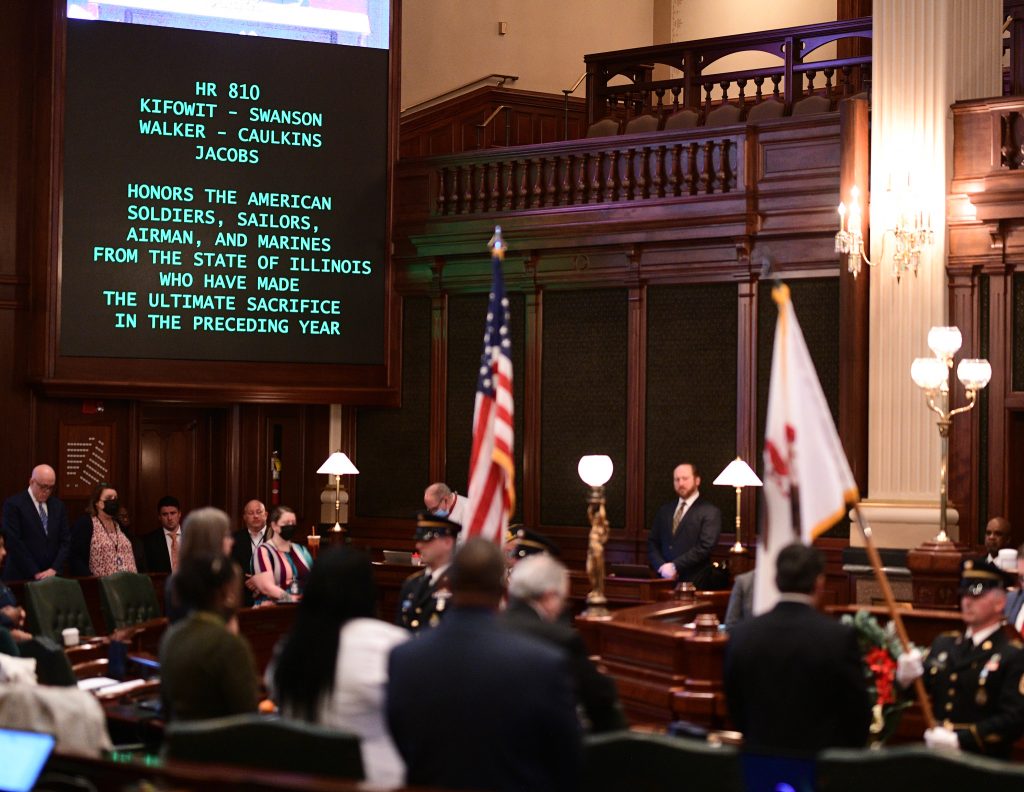 At the end of this month, we will also celebrate Memorial Day. Memorial Day reminds us of the sacrifices those in the military and their families make and have made for our nation. We recognized Memorial Day in the House last month towards the end of our spring session since it ended before this holiday weekend. To all the Gold Star families in the 20th District holding on to the legacy of the heroes they lost, we are with you and grateful for your sacrifice. Thank you also to our veterans who are willing to give it all for our country and freedom.
If you would like to contact my office, please feel free to at any time by calling (773) 444-0611 or emailing stephens@ilhousegop.org. Best wishes and enjoy the warmer weather!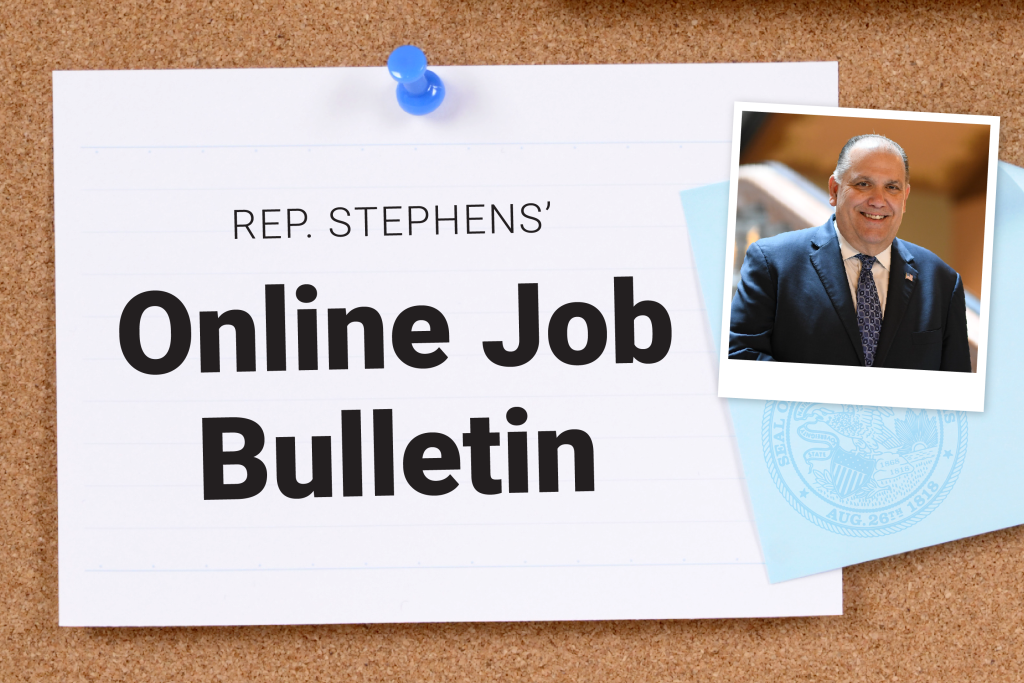 Rep. Stephens Launches Online Job Bulletin
Last month, I launched an online job bulletin on my website. This bulletin is open to prospective employers in our around the 20th District and 20th District job seekers. As we recover from the COVID-19 pandemic, many people are reentering the workforce but don't know where to start. I'm happy to provide an additional option for employers and job seekers to connect for people to find meaningful work and potentially start a new career adventure. Find my job bulletin online here.
Lasso a Good Book – Rep. Stephens' Summer Reading Program
As we begin summer vacations, some of our kids may have downtime throughout the summer months. This is a great opportunity to encourage reading and I'm glad to be hosting my "Lasso a Good Book" summer reading program for 2022!
To be a summer reader, Kindergarten through 8th Graders must read ten books during their summer vacation. With parental approval, participants can digitally submit or submit a form in-person to my district office. Submissions are due August 1st. All participants who read 10 books will receive a voucher for two tickets to see the Chicago Wolves during the 2022-2023 season. The individual who reads the most books will be the summer's "Grand Champion" and will receive two tickets for the B96 Jingle Bash in December 2022.Additional information, including library locations and the form to submit, can be found on my website here. Happy reading!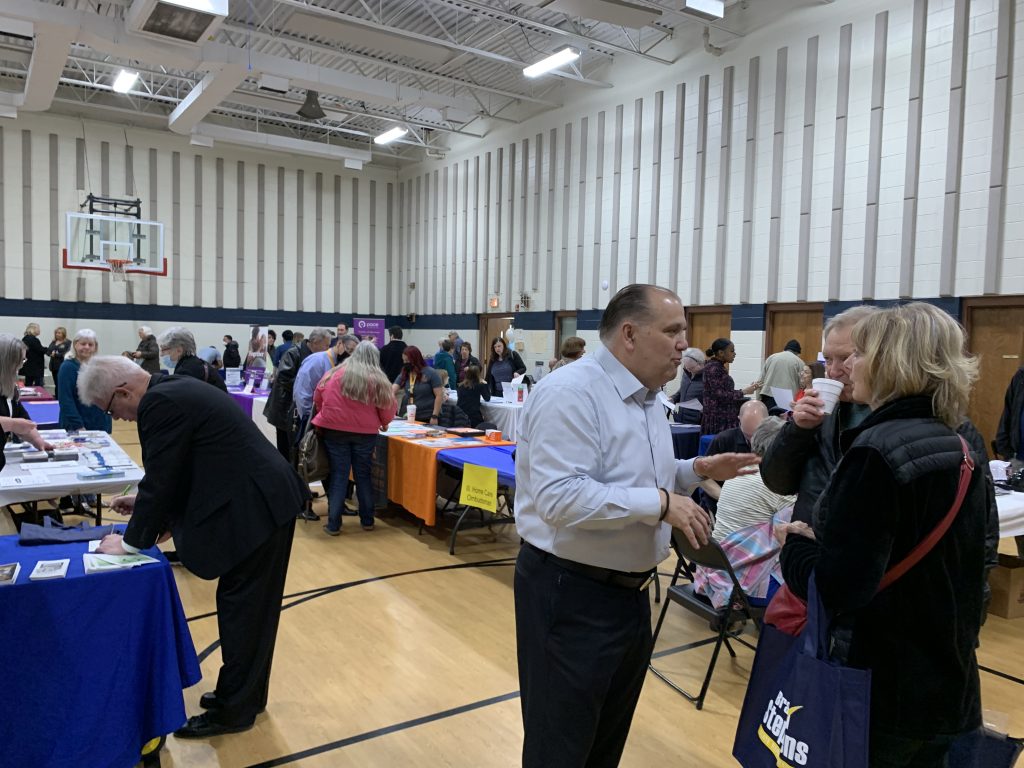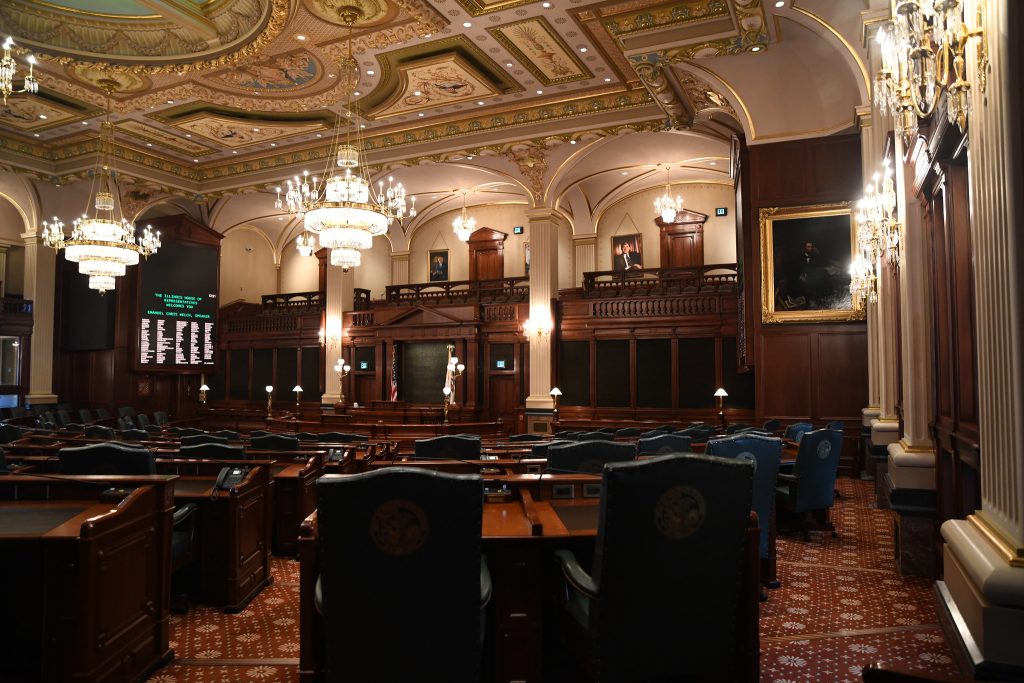 Session Wrap-Up
The Illinois House and Senate held its final week of the scheduled 2022 spring session, adjourning in the early morning hours of Saturday, April 9th. The General Assembly could come back prior to May 31st, 2022, the constitutional adjournment date, in case of unusual circumstances or emergency. Over the course of the truncated spring session, the General Assembly passed a total of 404 bills through both chambers. Key issues addressed in the flurry of activity at the end of session include a $46.5 billion State of Illinois Budget for Fiscal Year 2023, temporary tax relief for Illinoisans, nursing home rate reform, a modified hospital assessment program, a Medicaid omnibus bill, various public safety measures, and a partial repayment of the $4.5 billion Unemployment Insurance Trust Fund debt.
Unfortunately, the Democrat majority took little action to address skyrocketing violent crime, to bring meaningful changes to the failed leadership at DCFS that has resulted in the deaths of many children and eight contempt of court citations against DCFS, or make any effort to provide permanent property tax relief to Illinois homeowners. Additionally, despite the recent 22-count indictment against former Speaker of the House Michael J. Madigan on racketeering, bribery and extortion charges, Illinois Democrats did nothing to address ethics reform or clean up political corruption.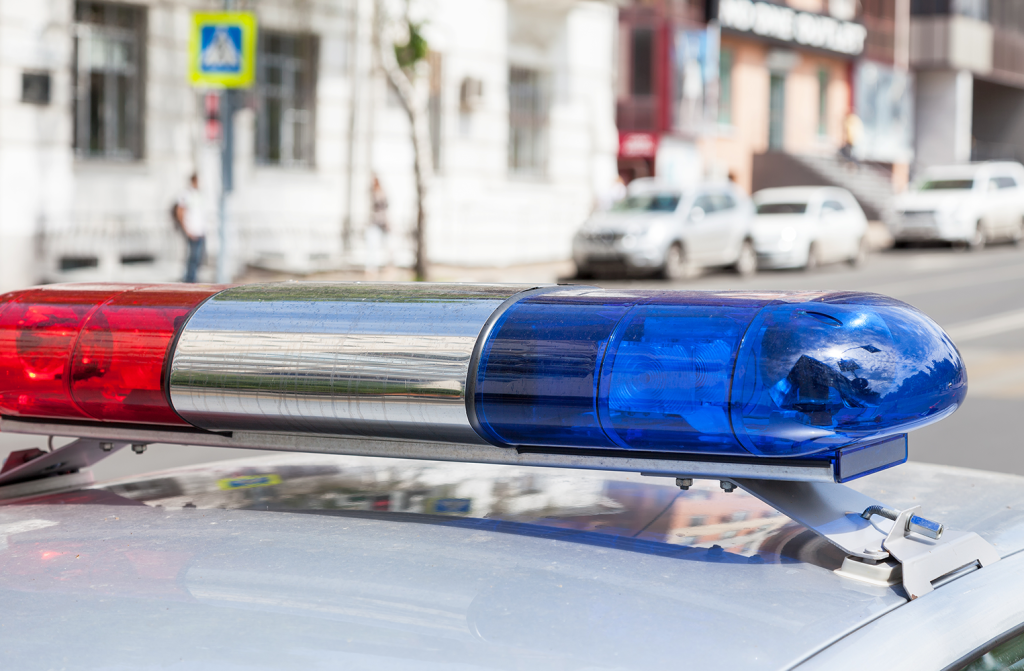 Police Records Show Violent Crime Rates Higher in Illinois than U.S. as a Whole
The numbers reflect police reports in the first quarter of calendar year 2022. Under federal law, law enforcement agencies nationwide are required to use standardized categories when recording and reporting criminal offenses within their districts. The numbers from all 50 states have now been tabulated, and Illinois' violent crime rates were once again higher in 2022 than in the U.S. as a whole. This indicates high levels of crimes such as carjackings, sexual assaults, and armed robberies in Illinois. The pattern of increases followed enactment by Illinois Democrats of the so-called "SAFE-T Act" of January 2021.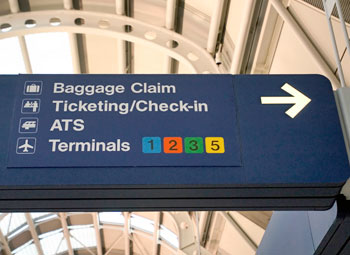 O'Hare Moves towards Terminal Construction
The $8.5 billion project to build and rebuild the passenger takeoff-and-landing structures of O'Hare is now underway. A major rebuilding of the aging Terminal 5 is expected to be completed in late 2023. The work, financed by O'Hare passengers' takeoff and landing fees—follows up on the recently-concluded $6 billion rebuild and re-alignment of the airport's eight runways. Most of these runways are now aligned west to east, enabling simultaneous safe takeoffs and landings.
The Terminal 5 rebuild will be the first stage of this reconstruction project. The rebuild, which will reconfigure takeoff-and-landing gate space to enable more flights into and out of Chicago, will lead to the movement of Chicago-based international jet traffic from Terminal 5 to a new Global Terminal. The Global Terminal will sit on top of what is now the 60-year-old Terminal 2, which will be torn down and replaced. Terminal 1 will get additional satellite concourses, connected to the mother terminal by additional tunnels.
At the end of the terminal rebuild project, called "O'Hare 21," gate capacity will increase by 25% and passenger terminal space will expand by 80%.
Illinois Road Construction Set to Intensify as Warm Weather Approaches
The job of rebuilding Illinois roads and bridges will reduce traffic lanes, slow traffic, and lead to interactions between construction workers and moving vehicles. Staying safe means obeying slow-down postings and changing lanes, especially when an emergency responder is also on the highway. The "Move Over Law" requires moving over for emergency responders, except when it is unsafe to do so. You are more likely to see a law enforcement officer when you are in or near a construction zone, because it is their job to enforce the work zone speed limits. Moving violation fines are sharply increased in work zones.
To plan ahead, the Illinois Department of Transportation (IDOT) will maintain a map and list of active Illinois highway work zones throughout the 2022 construction season. Illinois electronic highway signs will also be programmed to warn motorists of slow work zones ahead.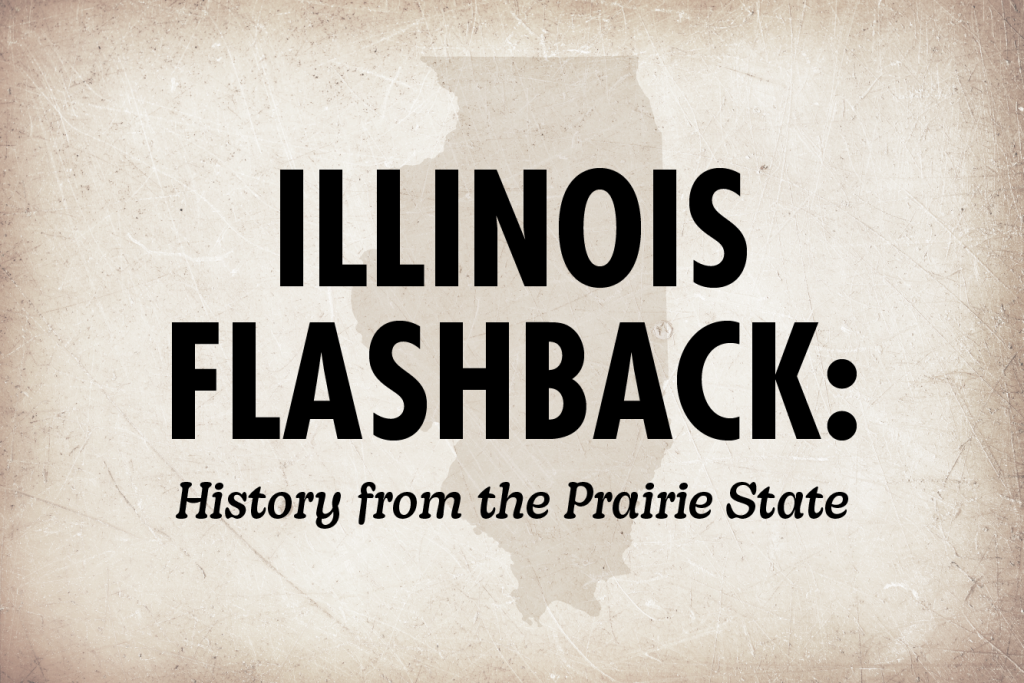 Illinois Flashback: History from the Prairie State
COVID-19 Updates
An April move to lift remaining mask mandates with respect to Illinois commuter buses and trains came in response to a federal court decision. The decision struck down the authority of the Centers for Disease Control and Prevention (CDC) to impose mask mandates in places of public transportation throughout the U.S. In response to this decision, the arms of the RTA—Metra, CTA, and PACE—stated face coverings and masks would no longer be required on Chicago-area buses and trains.
Stay Updated!
Were you forwarded this message? Sign up for my e-newsletter updates by visiting my website here. You can also stay updated on what I'm working on in Springfield and in the 20th District by following me on Facebook @repstephens.